We are very excited! And this way we aren't going to have to spend all of that extra money on bunches of cute girl cloths. LOL All I need to get is the big stuff, like a crib! And then a few cloths for the first few months. I'm sure the family will give a gift or two as well. But everything looks great. Baby is measuring right on schedule. And the heart rate was 153. We are having a hard time getting Kaleb to remember that it's a boy and not sissy. We picked out the name Keegan Blane. So now we just tell him it's baby Keegan. He's getting the hang of it. My MIL and Christian both went with me to the ultrasound. They had a bet going. If it was a girl, Christian would pull weeds at Nana's (my MIL) House, and if it was a boy Nana would buy Christian a toy. Christian won! He was very excited about that!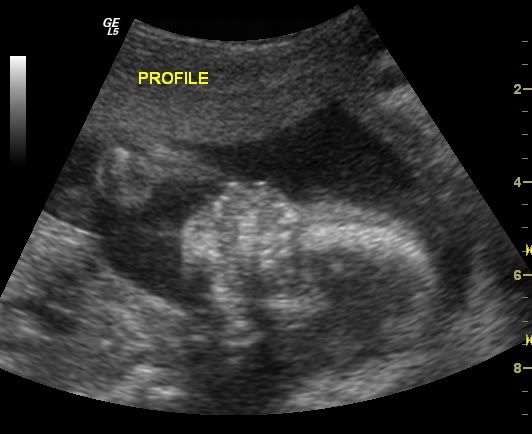 I had really wanted a girl. But it looks like God had other plans for me. This is going to be my last baby. DH is going to get "fixed" and we are going to look into me getting it done as well. We may have to wait untill we can pay for it though. It's cheaper for DH so we know we are gong to do that one. But I have been very sad lately, because that means that I will not get a chance to have a little girl of my own. Then I start feeling bad about feeling bad! I know it will be alright, I guess I just need some time. I wanted to go shopping after I found out, but I didn't end up with the time for it. So I went the next day with my sister, my aunt, my grandmother and my cousin. I looked around at cloths, but didn't see anything that caught my eye. Not for a boy at least. I saw tons of stuff for girls! I finally settled on a couple of outfits on the clearance rack. But I wasn't thrilled about them. I actually ended up finding a lot of maternity cloths that I liked though. I ended up splurging and getting myself an outfit too. I have tried to get into shopping, but every time I go I gravitate towards the little girl stuff. Then I get sad again and don't want to shop anymore.
I know that I am excited about the new baby boy. I am in love with the name we picked out too! I'm getting upset now because my need for a little girl is getting in the way of me enjoying this little guy! It's making me mad at myself. I better get over it soon! But then every time I tell some one else that we are having a boy they all say, "aww...", or "I'm sorry." I hate that! Don't be sorry! Be happy that he is a healthy baby. I am. I am only sad that I won't have a little girl, ever.
Maybe it's just all of the hormones going crazy inside my body that are making me feel like I am crazy!